Four students to represent South East at National Student Awards
Thursday June 6, 2019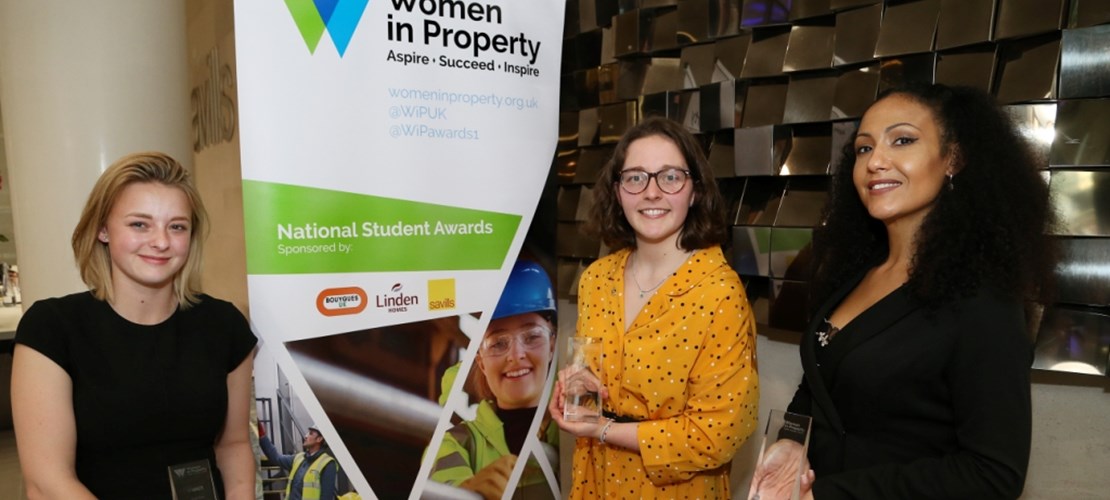 Picture shows Lauren Webster, Ruth Carlson and Lily Dixon, three of the four South East winners. Unfortunately Emma Buxton was not able to attend the event.
Four talented built environment undergraduates will go forward to the National Student Awards final, in September.  The South East branch region is particularly extensive, so four students from Universities across the entire area were selected.  The winners were announced at an Awards event hosted by Savills in London on 4th June.  They are:
Emma Buxton studying Real Estate Management at Oxford Brookes
"Emma is inspirational and professional. That professionalism is a huge strength.  She is confident not arrogant, an excellent all-rounder."
Ruth Carlson studying MEng Civil Engineering at Surrey
"Ruth is very competent, confident and passionate.  She has great energy, enthusiasm and technical savvy.  She is very impressive and her maturity showed."
Lily Dixon studying Construction Management at Kingston
"Lily is an excellent role model and has many captivating ideas and inspiring views. She has an infectious personality and will be an inspiration to women in this industry."
Lauren Webster studying BscHons Architectural Technology at London South Bank
"Lauren has a positive attitude, is very confident and engaging.  Her warmth and energy would be popular in a team."
The calibre of the contenders was so high that the judges also awarded Highly Commended to:
Samantha Green studying Architecture at Kent
Reah Huggins-Sutton studying Real Estate at Westminster
Lowri Nicholson studying Urban Design Planning and Development at Oxford Brookes
The National Student Awards are now in their 13th year and celebrate the talent, skills and ambition of the country's female property and construction student undergraduates.   Our thanks go to all the judges who dedicated their time and professionalism to the Awards process.  Special thanks go to the Awards national sponsors Bouygues, Linden Homes and Savills, whose commitment and support are invaluable.
Click here for more details of the National Final being held at Claridge's in London on 18th September.