"A work placement outside my comfort zone"
Thursday November 21, 2019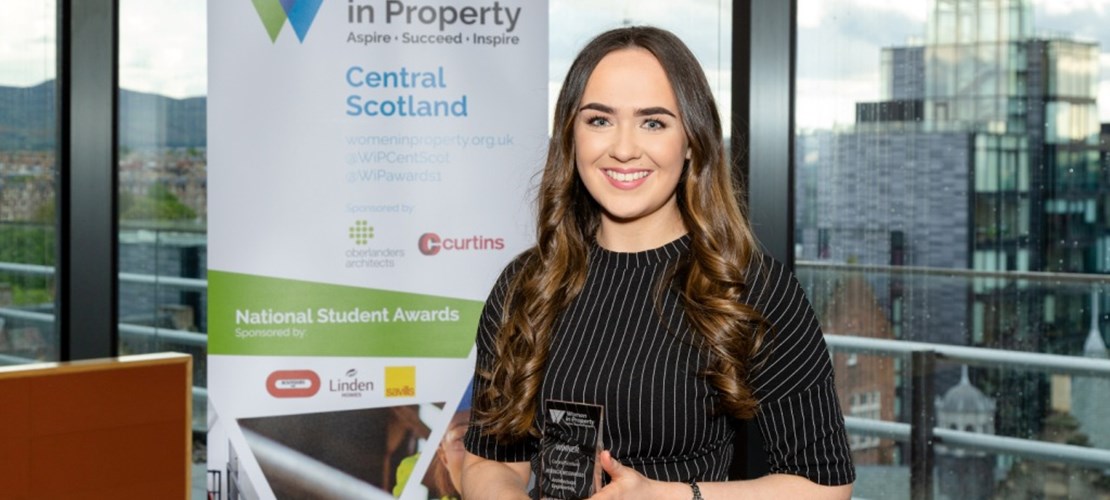 Pictured: Jessica at the WiP Central Scotland Student Awards - May 2019
"A work placement outside my comfort zone" 
Jessica McGinniss  
Thanks to Oberlanders for sharing this blog with Women in Property
I joined Oberlanders Architects as an Architectural Assistant for a 10-week placement between my third and fourth year of studying Architectural Engineering at Heriot-Watt University in Edinburgh. The title of my course is a common misconception as I know very little about architecture itself, mostly my degree focuses on building suitability, comfort and services – essentially lots of formulae and statistics.  Working at Oberlanders has given me the opportunity to see the industry from a whole new perspective.
I first learned of Oberlanders through the Association of Women in Property, as I was nominated for the WiP National Student Award. During the competition process I met Samantha McCabe, a Senior Associate at Oberlanders. 
Admittedly, I was anxious on my first day, but my nerves were soon put at ease as everyone was warm and welcoming. I worried that I should have played it safe and taken a placement within an engineering environment, thankfully I very quickly realised I had made the right decision.
During my placement I was very lucky to work on a variety of projects, across several departments and all at different stages of design. I began with helping to analyse and run daylight studies in different healthcare projects including the Badenoch and Strathspey Community Hospital in Aviemore and the CfHS2 in Inverness. I was able to use some of what I had learned already at university but apply it in a slightly different way, which was challenging at first but rewarding when it all pulled together.
I was also introduced to an abundance of new software's from BIM, to desktop publishing and AutoCAD. Working primarily on computers was new for me and the complexity of such programmes was overwhelming at first - and I definitely had days where Photoshop tried my patience – but with perseverance, and lots of questions I am now much more confident using these programmes. Towards the end of my placement I worked on a feasibility study for the conversion of a 19th Century Edinburgh tenement into a hostel or serviced apartments. I was able to join the first meeting with the client, helped with background research and drafted new ideas for the client to consider. I also got to spend time away from the computer and do some sketching, learning many new drawing techniques along the way. As the mountain of sketches piled up on my desk – and floor – I definitely felt like I was getting the full architect experience!
As an engineering student in an office full of architects, I became aware of what I later referred to as the differing 'language' between professions. Very early on in my placement, I learned the importance of communication and collaboration between the major players when designing a building, specifically the architect and the engineer. Essentially, I found the language spoken between professions is different, for example, architects communicate graphically whereas engineers communicate numerically, and this influences how they think, talk and work with each other. The same question kept popping into my head: if the language is different, who translates? I found this fascinating and only something I could learn from being immersed in this environment – and definitely a topic I could explore back at university when I begin my dissertation.
I would like to thank my team and everyone at Oberlanders for their ongoing support and friendliness during my 10-week placement. The experience and insight I have gained over the summer far surpassed anything I could ever hope for, and I am extremely grateful for the opportunity. I look forward to the future with excitement; the WiP Student Awards finals are fast approaching and I will soon be back at university to finish my degree. I would definitely recommend to all undergraduates in degrees similar to mine, either engineering or within the built environment, to seize any opportunity for a work placement, especially if that placement is in a slightly different field than the one you are studying. The opportunity to see the industry from a different perspective than your own, is an incredibly valuable and rare one. Don't be afraid to try something a little different, there is so much to be learned by stepping out of your comfort zone.