Women in Property announces Birmingham City University student winner of 2023 National Student Awards
Monday September 25, 2023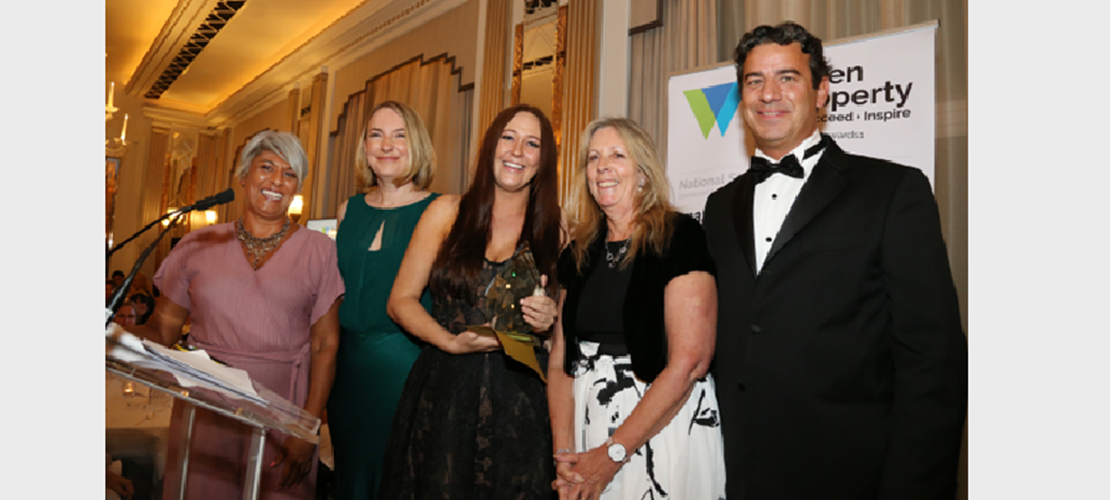 An Interior Architecture and Design student has taken the top prize in the 2023 Women in Property National Student Awards, competing against 13 other students in the national final of the Awards programme, now in its 17th year. Elsie Gribbon studies at Birmingham City University and is about to start her third year.
The Awards programme runs regionally each year, when universities are invited to nominate their top female students studying in their second year (third in Scotland) on a built environment degree course. The regional nominees go before a judging panel, when the candidates are questioned about a piece of coursework, as well as assessing their personal skills, professional potential, and understanding of the industry.
The winners are announced at regional Awards events, before going through to the Final, in September. They again face a judging panel when they are challenged on topical industry issues.
Over 1,500 students have been through the Awards programme and 2023 has seen a talented and diverse group of contenders, with 109 students nominated by their lecturers, representing 53 Universities. Women in Property is again giving all the participants free membership, which includes the option to take up the organisation's acclaimed mentoring scheme.
Elsie Gribbon commented, 
"This programme has allowed me to reflect on my experiences, grow professionally and gain the confidence to inspire other women in the property industry. I am incredibly grateful to the sponsors, judges, Women In Property team and my University for their dedication, commitment and support throughout the process. I look forward to using the opportunity to further develop and champion a diverse workforce in the built environment.
"My highlight has been meeting and learning from the other inspirational finalists and I look forward to many more events as we navigate our careers together."
Chithra Marsh, National Chair of Women in Property and Director at Buttress Architects, Manchester said,
"This is an amazing achievement for Elsie who faced stiff competition from her peer group, a talented group of women. As an organisation, our focus is on people and developing skills, so we are particularly pleased to honour all the students who took part. Their hard work, dedication and professionalism is a credit to them…and great news for the industry!
"Our thanks go to the Universities, for their continued support and commitment to the Awards. We are grateful to our national sponsors, Amazon, Bouygues UK, Savills and tp bennett, and all our regional sponsors, for supporting the Awards and for giving their time to the judging process."
Bouygues has been sponsoring the National Student Awards since 2014, Savills since 2018, and tp bennett and Amazon supporting for a second time at a national level this year, and all were represented on the national judging panel, alongside Chithra Marsh.
Francois Bierer, Head of EU Customer Fulfilment, Construction, at Amazon said,
"It is a genuine pleasure to be able to support the National Student Awards this year, the calibre and talent of the students involved are exceptional. Amazon is delighted to be a national sponsor and we look forward to working with Women in Property to develop our pipeline of female talent in the Built Environment, also encouraging diversity in the industry. Congratulations to the national winner, Elsie Gribbon."
Phillippa Prongué, Managing Director of Linkcity, the international property development arm of Bouygues UK, said of the Awards programme,
"I am honoured to have been included as a judge at this year's final. It was a tough call deciding upon a winner when all the finalists have showed such passion throughout the year. Congratulations to Elsie and all the finalists on their hard work and determination. It's always inspiring to hear from talented young professionals enthusiastic about entering our industry."

Yvonne Lee, director of Strategic Occupier Advisory Services at Savills, said,
"We are thrilled to once again be supporting the Women in Property National Student Awards. Throughout our long involvement with these Awards we are constantly impressed by the calibre of the candidates and this year has been no exception. Well done to all of the candidates and a very well-deserved congratulations to Elsie."
Vicki Odili, Director of tp bennett said,
"I appreciate that collectively we still have a lot of work to do to diversify our construction industry. The Women in Property National Student Awards is a brilliant initiative that supports the very best students from a wide range of degrees and courses, and tp bennett is pleased to be a part of it again this year. It is always such a pleasure to meet the young women and hear their journeys. They show so much initiative and enthusiasm that I am optimistic that they can contribute towards making the positive changes that we need to see."
The judges said of Elsie,
"She stands for change and paving the way for others to follow into the industry…she is professionally eloquent, authentic in her empathetic approach. We need more Elsies in the industry."  In particular, they noted Elsie's comments to the judging panel, including 'Empathy is what inspires change… this is all about making a positive difference based on our own life experience'.
Elsie receives a cheque for £1,000 and a trophy, as well as membership of Women in Property.  Meanwhile the 2024 programme is underway, with Universities being invited to nominate their top female students for the first round in the judging process.
In addition to the winner, Elsie Gribbon, the 2023 National Finalists are:
Bea Allen, Interior Design, Manchester Metropolitan University
Emily Buckeridge, Building Surveying, University of the West of England
Zoe Clingan, Engineering Design, University of Bristol
Bernadette Corangi, Urban Planning and Real Estate, University College London
Aimeé Darley, Civil Engineering, Loughborough University
Amy Gillanders, Civil Engineering, University of Glasgow
Lucy Gregson, Architecture, University of Huddersfield
Freya Kirby, Architecture, Cardiff University (Welsh School of Architecture)
Eilidh MacPherson, Urban Planning & Property Development, Heriot Watt University
Jordan Miller, Civil Engineering, University of the Highlands and Islands, Inverness College
Martha Newall, Residential Development Quantity Surveying, Sheffield Hallam University
Ellie Pascoe, Architecture, University of Reading
Alexa Skillett-Moore, Civil Engineering, London South Bank University