Empowering our young people
Tuesday May 10, 2022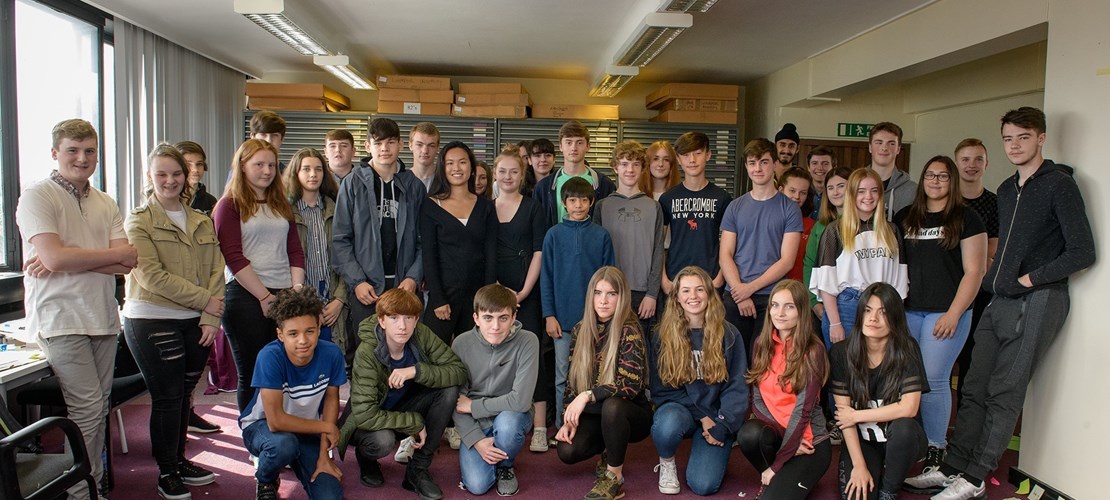 By Joanne Harrop, PLACED Director
PLACED Academy is a free to access programme of creative learning for 14-18 year olds that develops skills, increases self-belief, and creates empowered, confident young citizens who believe their view matters. The programme commences in July, includes a summer programme, monthly design challenges, professional development support, mentoring and work placements, as well as access to our emerging PLACED Academy Alumni programme. It is made possible due to the support of our fantastic Partners and Sponsors.
Our fifth programme is the first to be delivered face to face since the original Academy back in 2019. A lot has changed since then. Covid has negatively impacted on our young people greater than perhaps any other part of our society, the true extent to which we have yet to see. In part due to Covid, but also things that were already in motion, young people are growing up more socially and politically conscious than for many years. They're much more aware of the inequality in society, the prejudice and imbalanced challenges many in our communities' face, the climate emergency that we're failing to tackle head-on, and the increasingly divided communities we live in.
The quality of the places and spaces where we live and spend time has an immense impact on our quality of life and sense of self, and links to many of the issues above. I truly believe the only way we can address these challenges is by empowering and enabling our young people to create a better future. 
As a programme, PLACED Academy embodies all we stand for at PLACED as a Social Enterprise, across our education and engagement work. It is about enabling people who often go unheard to vocalise their views confidently, with empathy, and in a respectful but powerful way. It seeks to provide the opportunity to explore the challenges we face in the spaces we occupy, and to look for new solutions that will benefit all those who spend time there. It encourages those we work with to look around them in a new light, and to have a dialogue and explore solutions with others. 
Three core principles of the Academy are therefore: 
1.      Empowering youth voice
We believe it is critical that we enable young people to be heard and to meaningfully shape decisions, ensuring they are actively part of the decision-making process when it comes to creating places.
This is something that has always been part of the Academy. We've worked with our Partner Liverpool City Region Combined Authority since 2019 to involve Academy participants in the emerging Spatial Development Strategy for Liverpool City Region. They told us this "…demonstrated the key importance of Climate Change and Health to our younger population and will help us shape policies which will hopefully address these concerns."
This year, we're embedding youth voice with an even greater vigour, adding an Outreach Partner and Gold Sponsor options which include the opportunity to involve the group in live projects, thereby directly embed youth voice. We are grateful to Gold Sponsors Arup, Planit-IE and Avison Young – who, along with our local authority Outreach Partner, will see participants offering a critical, often undervalued, perspective, into their projects.
2.      Supporting diversity in the sector
Lack of diversity in the sector is a major issue. If those making decisions about the future of our places do not reflect our communities, how can they understand their challenges and design appropriately? We believe that through education, we can help create informed, stronger communities and professionals, who can make a positive difference. 59% of Academy graduates are female, and 33% are from ethnic minority groups.
Our Academy seeks to break-down barriers young people face in accessing careers, providing access to role models and mentors that they can relate to, through our Ambassadors, dispelling myths about who can succeed and giving participants the skills and confidence to pursue their passion. We also have honest conversations about the challenges they may face, and the different pathways available to enable them to make informed decisions about their future.
3.      Having a positive impact on their lives today
The built environment is an incredibly rich learning resource, and a creative programme based on it can enrich young people's lives. Past participants have developed skills that benefit them in school and college, seen significant increases in confidence and made friendships that extend well beyond the programme. 
At a time when the school curriculum is becoming increasingly narrow and young peoples' mental health is suffering, the impact of this should not be under-estimated.
Launching our 2022-23 programme fills me with excitement and a sense of real anticipation.  Over the last ten years, the work we have seen from participants consistently blows us away. Their ideas, discussions and designs display high levels of empathy, social awareness and responsibility, and a fundamental passion to tackle the climate crisis. Their drive to address some of the biggest challenges we are facing in society fills us with hope. This, along with the incredible support we've had from the sector – is what fills me with so much excitement.
To find out more visit info@placed.org.uk or email Jo on info@placed.org.uk