Charity wins the Women in Property 2021 National Student Awards
Friday September 17, 2021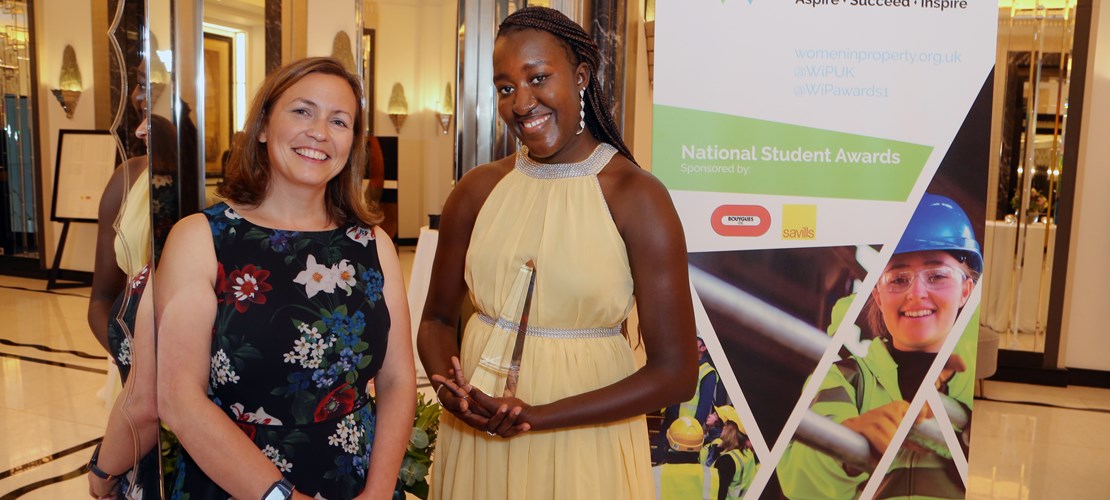 Women in Property has announced the winner of the 2021 National Student Awards, now in their 15th year.  Charity Zawadi Mwambeyu, studying Civil Engineering at the University of Bristol, claimed the top prize, competing against 12 other students in the national final. 
The Awards programme runs regionally each year, when universities are invited to nominate their top students studying on a built environment degree course.  The regional nominees go in front of a judging panel of industry professionals when they are questioned about a specific piece of coursework as well as their own career aspirations.   The winners go through to the 'Best of the Best' final, in September, again facing a judging panel when they are challenged on topical industry issues.  This year, 119 students from 54 universities across the UK participated in the Awards, with 13 going through to the final round.
Rachel Bell, National Chair of Women in Property and a director at Stride Treglown Architects, sat on the judging panel alongside Carole Ditty of Bouygues UK and Iain Maxwell of Savills, both national sponsors of the Awards, and Caterina Polidoro of Architects, tp bennett. 
The judges described Charity as "having great maturity and professionalism, confidence and humour, and a real serenity and depth about her.  She gave very well-structured responses to our questions and, in our view, embodied the potential for an alternative way of leadership.
"We were wowed by her comments, for example 'great things never come from staying in your comfort zone', and adopting Verna Myers' quote – 'Diversity is being invited to the party but inclusion is being asked to dance'."
Rachel said: "I know we, as judges, get a tremendous amount from this process.  These women are truly inspiring – we should never forget how much we can learn from the next generation coming into the industry.  They challenge the status quo, bring fresh thinking and, without exception, have a very real sense of responsibility and stewardship for the sustainability of our environment.  My congratulations go to all of them but particularly to Charity, our 2021 winner."
Carole Ditty of Bouygues UK said: "It is such a privilege to be part of the judging panel for the National Student Awards.  Each year I am both humbled and inspired by the wealth of talent of our next generation.  Their energy, enthusiasm and passion for the industry give real encouragement for the future of our built environment.  Bouygues UK is very proud of its association with the Awards programme." 
Siân Tunney, UK Board Director and head of Savills' gender group, added:  "A huge congratulations to all of the candidates and, of course, our overall winner of this year's National Student Awards. Yet again the calibre across the board has been incredibly high and we are delighted to sponsor the awards, which offer an important platform for young women in the real estate industry."
As well as a trophy, Charity wins a cheque for £1,000, membership of Women in Property and access to our acclaimed Mentoring programme.
Over 1,300 students have passed through the National Student Awards programme since they were first held in 2007, and the 2022 university nominations will soon be underway, with the regional judging taking place in the early spring next year.