Schools Outreach programme - why me, why now, why get involved?
Thursday March 26, 2020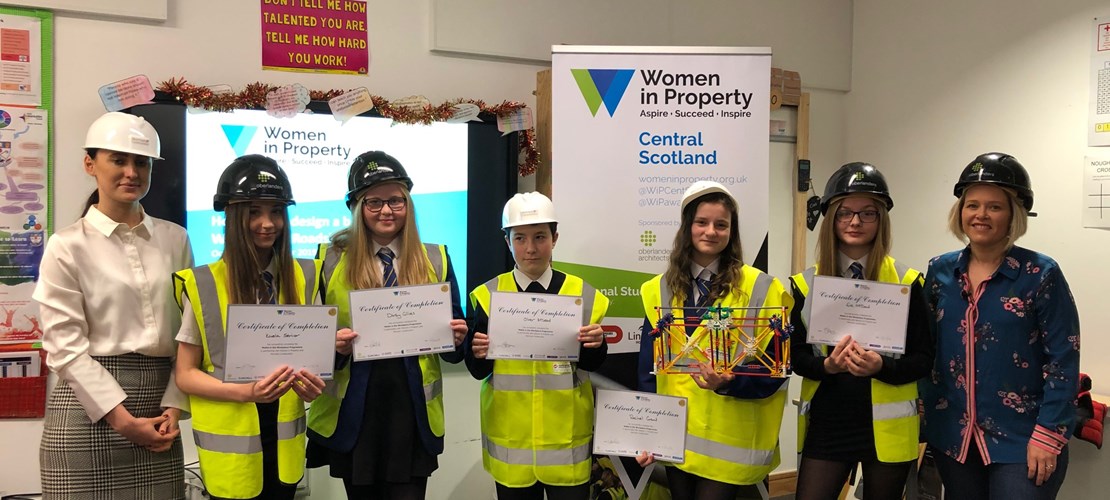 Samantha McCabe, Architect – Senior Associate, Oberlanders Architects
I wrote this with the backdrop of the devastating impact of Coronavirus but I was determined not to let it stop me talking about why, a few months ago, I got involved with an amazing project, long before the schools closed. Women in Property has been running Schools Outreach projects for many years with some great work done by volunteers from the membership, across the country.  My work as an architect inspired me to get behind one run by the Central Scotland branch in collaboration with Morrison Construction Central, with a fabulous group of volunteers from Baker Hicks, Cundall, David Narro Associates, Dentons, Gleeds, Wardell Armstrong, Worksmart Contracts and my own company, Oberlanders Architects.
So why get involved in the programme?  From our house to the office, to the school, library or café… they all started out as design projects and became construction projects. The industry is fascinating, and it impacts on our lives in so many ways.  I absolutely love it, so why not share that passion?
Young people spend a lot of time in their school buildings and they need to feel safe, warm and inspired to create.  
I have designed over 30 school buildings in Scotland and Australia, and I've realised that Architecture is about delivering spaces that people are comfortable in, appeal to their individual needs, are light, airy and conducive to learning.  Listening to the head teachers about their school philosophy and the way they work is key to a successful design.  A lot of the time this means integrating the outside in. Framing key views for the dreamers or allowing enough natural light to help the brain matter function. Creating key gathering spaces to allow small groups to work together and individual breakouts for the those that need them.  None of it is rocket science, but it is an art to interpret and bring together the head teachers', councils', and pupils' views and deliver even the simplest building, that meets all user requirements. 
Many of the young people that we reach through the Schools Outreach Programme don't have the exposure to our industry and this narrows their chances of pursuing construction careers.  We are broadening their horizons, showing them what is possible and importantly why maths opens the doors to so many opportunities.
Unfortunately, we have had to put further plans on hold for the time being but if you're interested in getting involved with Women in Property's Schools Outreach work, we will be gearing up again, as soon as life returns to normal.  Please get in touch via publicrelations@womeninproperty.org.uk 
Meanwhile, here is a taste of the Central Scotland branch project - click here.