It's a no brainer
Thursday November 14, 2019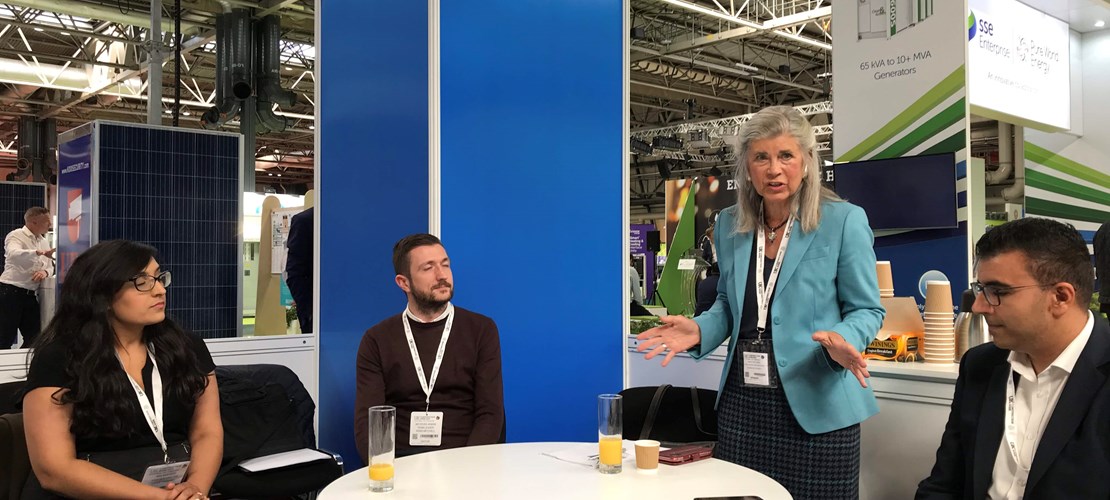 Kam Saini of CarneySweeney, Steven Jenkins of Irwin Mitchell, Sandi Rhys Jones and Shazad Ahmed of Bouygues, all panellists for the 'No Brainer' discussion at Construction UK
Recently I chaired a small – but perfectly formed – panel discussion for Women in Property at the UK Construction Week exhibition, held at the NEC.  The topic was to discuss how managing wellbeing can make a significant difference to people and businesses.  On the panel were Shazad Ahmed, Social Value Manager from Bouygues, Steven Jenkins who is Leader of the Personal Injury Support Team at lawyers Irwin Mitchell and Kam Saini, Associate Director from planning consultancy CarneySweeney and Midlands Chairman of Women in Property.
It was clear from the start that the panel share a deep commitment to nurturing a healthy, happy workplace and it was very encouraging to hear how their own organisations are working to improve wellbeing.  Irwin Mitchell has recently launched a wellbeing calendar and an Intranet-based Wellbeing Hub where key events such as World Mental Health Day are logged.  Stress awareness weeks have been introduced, with subjects including alcohol management and work life balance. "We ran a survey asking what people want from mental health support and I was taken aback by how openly people shared their issues, for example one colleague talked about how she was dealing with cancer in her family, "said Steven Jenkins.
Bouygues is preparing the global launch of Harmony, its wellbeing strategy. Developed in France and now to be rolled out across 100 countries, the strategy combines the corporate and the individual. For example, it addresses changing management attitude and behaviour and introducing firm rules for meetings to make them more efficient and productive. In addition there will be a programme of professional support to help people self manage. Parenting is a priority, to resolve the lack of consistency in the business on parental leave and returners.  "We have also introduced an email management charter," explained Shazad.  "This seeks to stop work correspondence at weekends, so the system literally asks the user 'Can't this wait until Monday?'" Music to our ears!
While our panellists had different experiences and anecdotes, a number of important themes were common to all: encouraging trust, transparency and awareness of those around us.
Kam Saini said,  "I've always had a fully committed employer who has consistently supported flexible working, based on trust and balance.  We always work on the basis of 'look at the problem and provide the solution'." It became clear in the discussion that Kam recognised from the start of her own career the working environment she wanted and set about finding it. Now she is part of a newly formed planning consultancy, CarneySweeney, working with long standing colleagues and is committed to maintaining that philosophy for everyone. "If you prepare the ground, which includes managing client expectations, you will build trust," she says, neatly dealing with the familiar response of those organisations who claim that flexibility is very difficult because clients demand 24/7 service.
The flexible working ethos is very important to so many people, whether it's to leave early to pick up the kids, get to the gym, care for an elderly parent or spend time in pro bono activity. As Shazad from Bouygues said, "We have found that volunteering is a great way for people to get a sense of wellbeing by making a difference to others." One of the most time-consuming aspects of achieving this, which can be so important for wellbeing, is getting access to senior management and securing their buy-in. Overcoming the 'permission culture' was agreed to be an issue for many of us. Yet, even with senior buy-in in place, it was also agreed that, in fact, working flexibly can be a bigger issue with peers, particularly for those who haven't yet taken up the opportunity but might quietly resent their colleagues 'disappearing' early. 
The conversation moved onto the importance of listening. "Taking time out for people is critical" said Kam.  "Listening to them, ensuring they have the resources to do the job.  Just ask someone if they're ok.  Be aware.  At home or at work, if one of us falls apart, there is a knock-on impact."
The discussion really hit the spot with our audience but one particular 'stand out' contribution came from Stuart Smith of Seddon Construction, who described an initiative – Jordan's Conversation - launched in memory of a young apprentice who tragically took his own life.  Stuart explained,
"Suicide is particularly high in the construction industry, made even more poignant to us when Jordan passed away.  So Jordan's Conversation came about to get people talking about mental health.  It was launched during International Mental Health Awareness Week in 2018, to help normalise the subject of mental health, let people know it's ok not to be ok and to make sure people know they can ask for help if they need it. We have a helpline and web-based hub, https://seddon.co.uk/csr/jordans-conversation.  It's really made an impact – I believe over 50 sessions have been run, to over 420 people including our subcontractors, to try to get the message out there."
The subject of wellbeing in the workplace is complex but critical.  The panel was a pleasure to facilitate, with the openness and trust that was shared and the participants are keen to maintain the dialogue that was started.  Women in Property is keen to hear more about our members' experiences, advice and support so please get in touch with me at sandi@ryhsjones.com . Everything will of course be treated in confidence before mutually agreeing what can be shared and how. I know that some of our branches are planning Wellbeing sessions into next year - keep your eye on the Events pages https://www.womeninproperty.org.uk/events/