The Gender Pay Gap
Wednesday March 29, 2017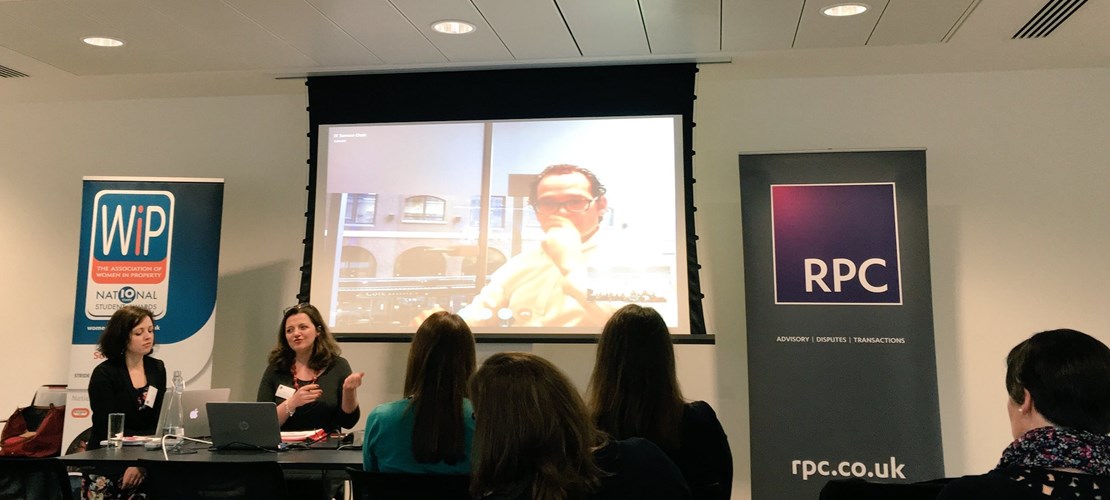 Rachael Sherratt, Associate Director, NOMA Architects
WiP South West Committee Member
Last week I attended the Women in Property SW event on the 'Gender Pay Gap - how to reduce it and why'. Hosted by RPC Law at their Bristol office, there were over 20 attendees and 3 expert speakers:
Zara Nanu, founder of Gapsquare, a tool for calculating the gender pay gap within your business
Patrick Brodie, specialist employment lawyer with RPC
Sarah Pinch, MD of Pinch Point Communications, ex-President of the CiPR and Non-Exec board member
The event kicked off with each of the speakers talking about their own specific area of expertise and then moved on to a question & answer session. Zara explained how the construction industry currently has one of the highest gender pay gaps in the UK. Put simply, this means that within construction, women are less likely to appear in senior roles - meaning either a career break to have a family or the desire to work flexibly to fit around family life, is something which is pushing women into more junior roles when compared to their equally-competent male counterparts. This is also apparent when promotions become labelled as time-dependent - e.g. after 6 years service. Or if a senior role is labelled as 'full-time' - just because it always has been, rather than because it has been assessed and determined it needs to be. As Sarah debated "we need a road map of how to get more women into senior positions". In business terms, research has shown that broad diversity within both ethnicity and gender enhances creativity and market reach in that business. The Federation of Small Businesses has even published a report on 'Women in Enterprise: The Untapped Potential'. So if it makes good business sense, why aren't all senior executives demanding it? Potentially with the new legislation they will be. There is intention for the government to start publishing league tables of companies on a sector-by-sector basis which means their gender pay gap will suddenly become a PR/ marketing tool. Patrick said that the reporting requirement and in particular the narrative used by a company to support and add colour to the reported statistical data will for organisations which lead on the diversity and inclusion agenda act as powerful "mechanism for the engagement,retention and recruitment of people", speaking directly to the principles and strength of inclusion, collaboration and diversity throughout and particularly at the higher levels of a company . And when the cost of replacing a member of staff can be upwards of £30,000, it suddenly becomes a fairly key part of a HR programme.
Currently the new legislation only requires companies with 250 or more employees to report their gender pay gap, however employees in the room who worked for companies which fall into that category had received no information about it from their employers, so it will be interested to see how upfront and open companies actually are about results in advance. The Women and Equalities Committee have also asked the government to consider lowering the threshold immediately to 100; the hope is that many more companies will aim to get ahead of the game, take a lead and look to assess their gender pay gap in order to work out ways of reducing it if applicable. The tool at www.gapsquare.com is a free report/analysis guide - all you need is payroll data for the month of April (or specifically for 6th April) and it will clearly set out what your gender pay gap is. All members were urged to talk within their businesses about looking into this tool to see if they can be part of the movement to make a difference.
Sarah also highlighted that there is also current opportunity (before 12 April) to input into the government response to the gender pay gap by commenting or submitting a question to Justine Greening, Secretary of State, here: http://bit.ly/2otVCdr . I am currently thinking of a number of questions and it would be great if plenty of other Women in Property members looked to submit questions too.
The event ended on a constructive note of what we should all be doing to work together for change, both for ourselves and for the next generation. Underlying sexism (whether conscious or sub-conscious) should always be picked up on and challenged. We need to applaud and highlight women as role models within our sectors - the more we can tell the story of current achievements, the more we can reassure the next generation that things are changing. We also need to talk to one another about salaries and promotions, and get involved with mentoring (both as a mentor and a mentee) to ensure we are being given that opportunity to discuss problems and establish solutions. I am a member of the Women in Property mentoring scheme and I would strongly urge other members who aren't yet signed up, to contact your branch representative to get involved. Together we can work to #BeBoldForChange