Building a better workforce
Tuesday November 14, 2017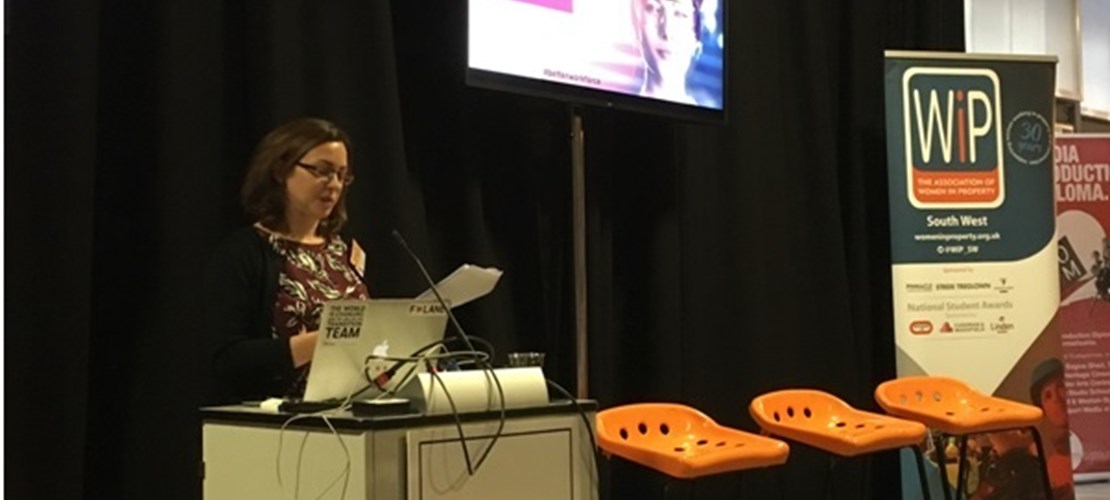 Rachel Bell, Chairman of WiP South West branch 
How is our industry going to attract more women?  In 2016, Randstad reported that women are expected to make up a quarter of the UK's construction workforce by 2020, just three short years away.  Currently, the industry quotes anything from 11 - 15% depending on the sector, so 25% is encouraging…but…and there are a lot of 'buts'.  We already know where the problems lie, for example a flexible working environment, career progression, the pay gap.  What is the industry going to do about it?
WiP South West wanted to find out more about what women want from work, although this isn't about women per se, because many of the issues impact both women and men. We wanted to examine why women remain under-represented, what can be done to improve retention and also look at the practicalities of work, for example around women returners and parental leave.
We joined forces with Gapsquare, a leading provider of pay gap analysis and executive research consultants, Rosemont partnership, and together we undertook a piece of research.  We distributed a survey to representatives, men and women, from all sections of the property and construction market, asking questions on three core areas - Education, Skills and Training; Recruitment; and Retention and Benefits.  The majority of respondents were aged between 25-44, with 72% female, 26% male and the remainder listed as other.
Here's a snapshot of the results, which were presented in detail, at our "Building: A Better Workforce" Report launch in early November.
It seems that over 30% of those questioned leave their jobs after two years or less, with employers losing some very highly qualified people.  While there do appear to be plenty of female role models, only 12% are in a managerial role and, perhaps unsurprisingly, 74% said they don't have a mentor.  As WiP members know, mentoring is a core benefit and one which really helps people achieve their goals, including career progression. The leaky retention pipeline has long been a problem in the industry.  Those employers experiencing this haemorrhage of talented female staff should explore their own policies, including training, promotion and access to mentoring.
We also learned that the vast majority of roles are still traditional full or part time, at nearly 80% of respondents, with only 16% saying their role was flexible, this being a particular problem for both women and men, around the family years.  And, relating this back to the low number of women in managerial roles, suggests that women haven't been able to sustain their career following a break for children.  Yet flexible working was cited as being the overwhelming benefit of choice…if only it was available in the majority of workplaces.  And flexible working isn't just about women returning, having had children. There was discussion around how one asks for flexible working when you don't have children.  This is about highlighting how it makes the employee work more efficiently and productively, as well as strengthening their loyalty to their employer.  A win win for all.
This feedback probably feels familiar because it endorses what most of us already know. The question is, what do we do about it?  I've already referred to the need for employers to address training, career development and, above all, flexibility.  People really aren't very interested in gym memberships as a benefit, when basic work-life balance is missing. 
During the audience discussion at our report launch, the point was made that, as we are designing-in flexible work environments and breakout spaces into schools and universities, it follows that when those generations enter the workforce, they will have expectations of flexibility there too.  In other words, employers, ignore flexible working at your peril!
The industry as a whole must look at how it inspires and attracts new talent - and this starts in school - selling it as a vibrant, diverse and fulfilling arena to work in.  A comment made at the report launch pointed out that we need discussion in schools and universities on the myriad of jobs on offer, not all site-based roles, in order to attract talent from non-construction-based disciplines.
Women themselves must make sure they're visible, both within their own work structures and to the next generation.  The importance of both role models and sponsors was raised by the audience, something which is currently lacking in the industry.  Related to this are the number of young people, but especially women, who lack confidence.  They need assistance through training or tutoring in order to be able to advance within the profession.
It is really important to note that there are plenty of good things happening too.  We have had great feedback from companies in the South West who are actively introducing flexible working practices that are helping boost retention and productivity and we know there are some fabulous role models out there.  Collectively, they must be the industry's inspiration.  
If you would like to read the survey results, please click here.
Please discuss with your employers/employees and feed back to us any positive improvements you have been implementing so we can share updates and success stories next year.